Under Wader Wear or Layering Up for Best Wader Performance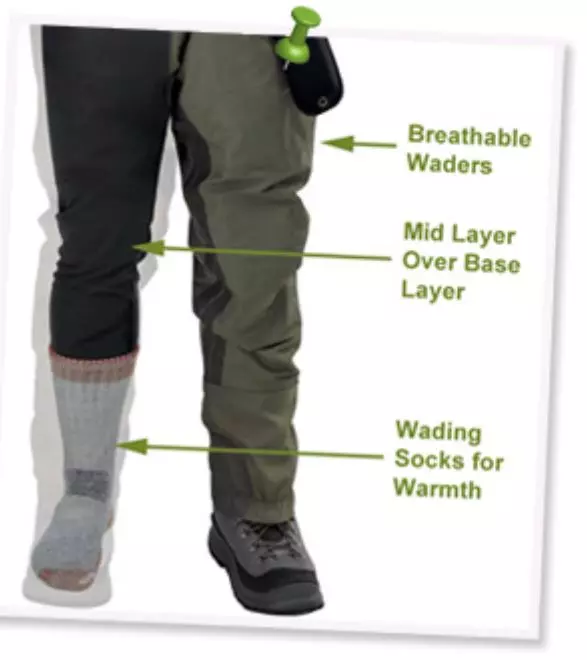 Getting the most out of your breathable waders
Here is Australia we wear waders for fly fishing most of the year. In winter, obviously because its cold, but in summer to help keep us safe against the ever present snakes that inhabit our catchment areas.
What to wear below your waders becomes more than just a choice for comfort. These days we are all familiar with the term "layering". Layering is quite simply dressing with the purpose to allow for heating and cooling oneself via the use of layers. Each layer can have properties that include being breathable, wicking, windblock, UV block, cooling or heating and often are a combination of these.
Its important to remember that for breathable waders to be effective, they need your help.
1. The base layer
This is the layer closest to your skin. As such its main purpose is to wick sweat from your body and carry it away from your skin. This helps our body to regulate its temperature.
Cotton does NOT do this. New fabrics such as polypropylene, brushed micro fleece and assorted other base layer garment specific fabrics will do this, as will wool such as merino and silk.
Under waders, always wear a full length leg, start with either a heating or cooling leg base layer and the same for your tops.
The base layer must fit in a form fitting fashion. Air pockets and loose fit will trap or allow air which inhibits the wicking of moisture off your body.
2. Middle Layers
These layers are diverse. In summer you might just have one layer, a Cool wicking sun top or a long sleeve shirt.
In winter though, you might well add a polar fleece or woollen jumper or jacket over the shirt or tshirt, and an extra layer on your legs such as warmer fleece or micro fleece pants.
Usually this second layer is still under your waders so it's a good idea to still have breathable middle layers that provide comfort and flexibility to adapt to changing temperatures.
3. Outer Layers
Your outer layers need to assist waders in two ways. 1. A jacket needs to keep moisture and wind out and off your body, while at the same time, 2. it needs to move perspiration away from your body and release it into the atmosphere.
This two way action is exactly what your breathable waders do. If your jacket doesn't breathe, your waders cant completely do their job.
So, layering is important. Start with legs, these must be breathable, stretchy and have either cooling or warming properties. Both your base layer legs and top need to be form fitting and have properties specifically for base layering.
Next, the middle layer can be quite diverse. From t shirts to jumpers, jackets and microfleece track pants. This layer is the one which will come on and off as temperatures change. They need to fit comfortable under your waders, so when purchasing waders, make sure to leave room for extra layers.
The outer layer, sits outside of your waders, Its helps keep the angler dry, while allowing moisture to escape. It needs to be comfortable and not too bulky. Remember to wear your vest, sling or chest pack under this jacket if its not waterproof!